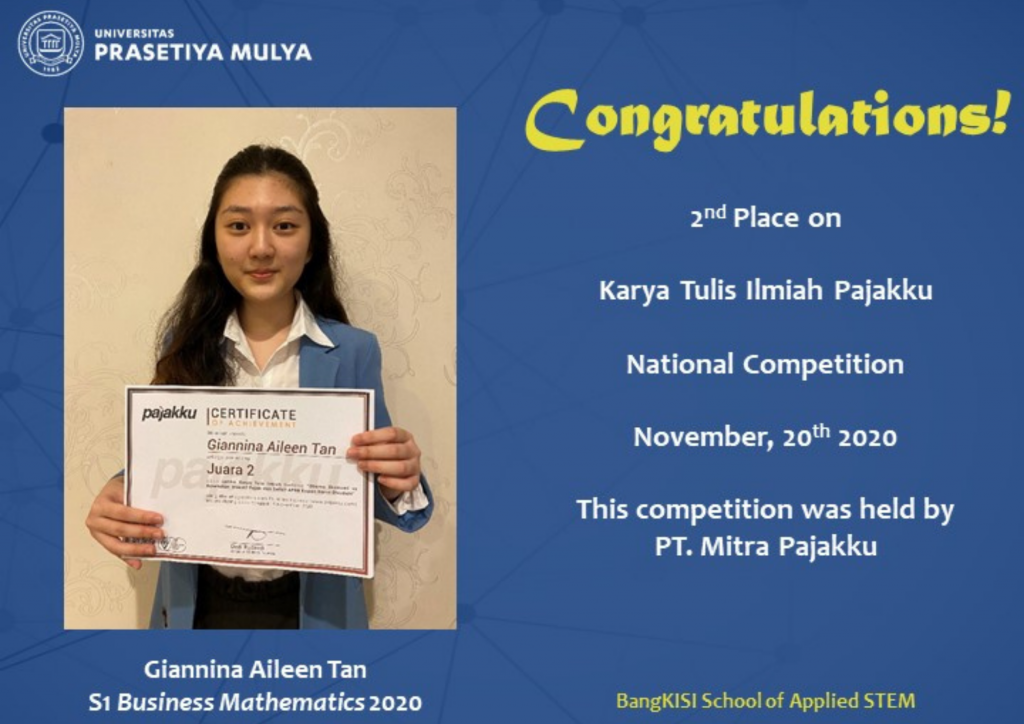 Lomba Karya Tulis Ilmiah Pajakku merupakan kompetisi karya tulis ilmiah tingkat Nasional yang diselenggarakan oleh PT. Mitra Pajakku dengan tema "Ditengah Dilema Ekonomi vs Kesehatan: Insentif Pajak dan Defisit APBN Kapan Harus Disudahi." yang diselenggakan pada bulan November 2020 kemarin.
Pada karya tulisnya, Giannina Aileen Tan (Mahasiswa program studi S1 Business Mathematics) Sekolah STEM Terapan, Universitas Prasetiya Mulya membahas tentang kontribusi masyarakat melalui pajak untuk pembelanjaan negara dengan judul "Contribution of the People through Taxes for Continuous State Spending in Indonesia to End Economic Recession," yang membahas bagaimana masyarakat Indonesia bisa berkontribusi untuk membantu mengakhiri resesi ekonomi dengan pembelanjaan domestik. 
Setelah melalui tahap seleksi, diperoleh 3 karya yang terpilih termasuk karya Giannina yang meraih Juara 2 dalam kompetisi yang diadakan oleh PT. Mitra Pajakku tersebut. Hal ini menjadi kebanggaan bagi Giannina maupun Sekolah STEM Terapan.
Dengan mengikuti kompetisi ini, Giannina dipacu untuk berpikir kritis dan analitis ketika membaca dan juga menguji kemampuannya untuk memaparkan ide-ide dengan jelas, serta memperluas wawasan dalam isu-isu terkait perekonomian ditengah pandemi. Ia pun belajar bahwa tidak ada hasil yang bisa dicapai jika tidak berani mencoba terlebih dahulu dan hasil tidak akan mengkhianati proses, selama semuanya dikerjakan dengan maksimal. Semoga prestasi ini menjadi pemacu untuk mahasiswa Sekolah STEM Terapan lainnya.