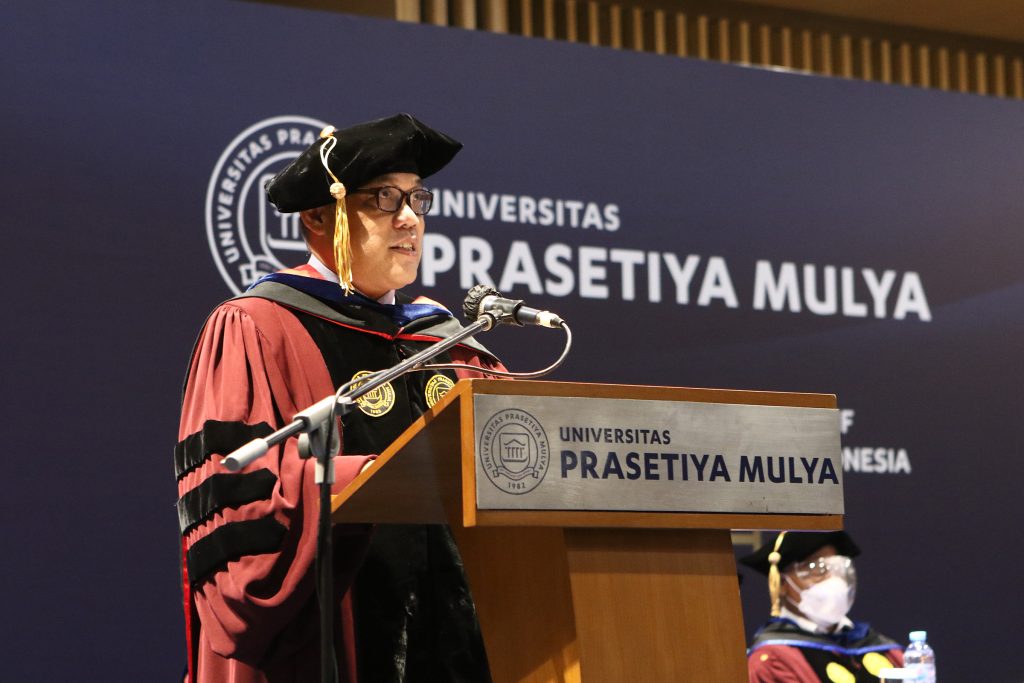 Wisuda Universitas Prasetiya Mulya tahun 2021 telah diselenggarakan pada 7 Desember 2021 secara hybrid (luring dan daring). Wisuda kali ini merupakan tonggak sejarah baru bagi Universitas Prasetiya Mulya karena adanya wisuda bagi lulusan pertama Sekolah STEM (science, technology, engineering, and mathematics) Prasetiya Mulya.
Sebanyak 56 lulusan dari 5 Program Studi yang ada di Sekolah STEM telah menyelesaikan studinya tepat waktu. Suatu kebanggan tersendiri bahwa 75% dari mereka telah berhasil mendapatkan pekerjaan sesuai bidang studinya hanya dalam waktu 2 bulan setelah lulus yudisium. Di samping itu, 28% diantaranya berhasil membuka lapangan pekerjaan bagi masyarakat dengan merintis usaha baru.
Lulusan STEM tahun ini diharapkan menjadi pionir dan penggerak kemajuan masa depan Indonesia dengan ilmu dan kemahiran yang didapatkan di bidang sains dan teknologi.
"Penggunaan sains dan teknologi seperti data science, artificial intelligence, Internet of Things, genomics, renewable energy, dan lain sebagainya, dalam memajukan bisnis dan ekonomi bangsa ini telah menjadi keharusan agar tetap bisa berdaya saing global." – ucap Prof. Yudi Samyudia, Ph.D., Dekan STEM Prasetiya Mulya.
Prof. Yudi juga menyampaikan bahwa tantangan abad 21 menuntut lulusan perguruan tinggi memiliki kompetensi yang baik dalam hal critical thinking, creativity, collaboration, dan communication. Disamping itu keterampilan sosial juga sangat diperlukan seiring dengan semakin meningkat dan kompleksnya kehidupan sosial yang dihadapi masyarakat kita.
Dalam kegiatan wisuda kali ini, Sekolah STEM secara khusus memberikan apresiasi STEM Graduate Award kepada mahasiswa lulusan terbaik masing-masing program studi dan juga lulusan terbaik perempuan di STEM Prasetiya Mulya. STEM Graduate Award 2021 merupakan hasil kolaborasi antara Sekolah STEM dengan perusahaan sponsor yaitu SUN Energy, Dexa Group, Medco Power Indonesia, Sinarmas Mining, dan Triputra Group. Berikut adalah daftar peraih STEM Graduate Award tahun 2021: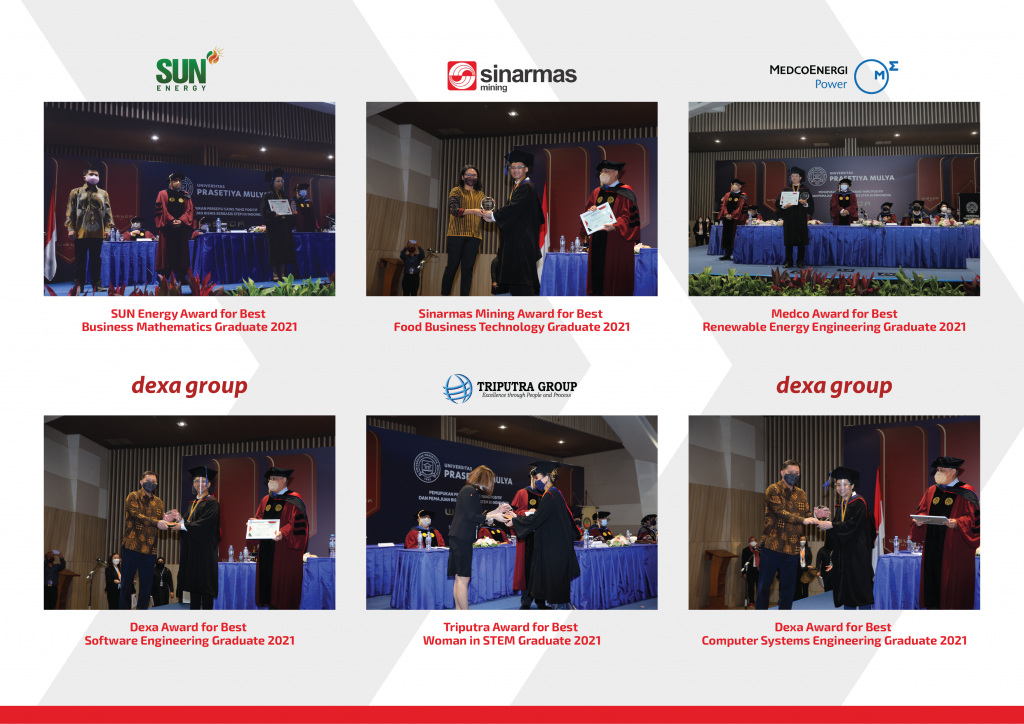 Apresiasi besar dan doa terbaik untuk lulusan pertama STEM Prasetiya Mulya! Terus berkarya dan berkontribusi di bidang STEM untuk kemajuan Indonesia.
#WisudaPrasmul2021 #Graduation #S1PrasetiyaMulya #Prasmul #PrasetiyaMulya #Classof2021 #UniversitasPrasetiyaMulya
\LGU