UI Youth Environmental Action atau UI YEA, merupakan serangkaian kegiatan bertaraf internasional yang diselenggarakan setiap tahunnya dibawah naungan Badan Eksekutif Mahasiswa Universitas Indonesia.
Kegiatan yang dibentuk sejak tahun 2012 silam ini bertujuan menjadi wadah bagi generasi muda dalam memberikan inovasi dan menciptakan solusi tentang isu tantangan lingkungan sekitar.
Tahun ini menjadi tahun ke-11 serangkaian kegiatan UI YEA diselenggarakan, tepatnya 4 – 26 November 2022 lalu, dengan mengungsung tema "The Utilization of green ndustry to Generate a Massive Resiliency". Adapun untuk serangkaian kegiatan yang dimaksud meliputi pre-event mengenai penyelenggaraan kompetisi esai, kompetisi propaganda kreatif, kompetisi esai internasional, konferensi, acara lapangan, dan Grand Summit.
Baca juga: Inovasi Heybar Ungguli Ajang Kompetisi Food Product Development Competition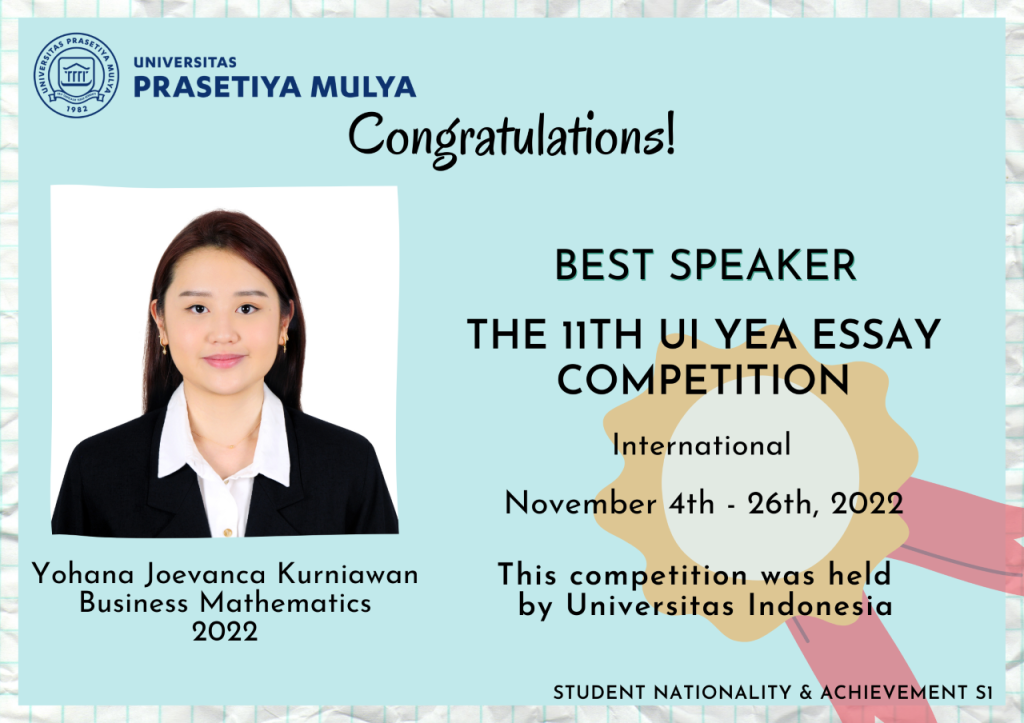 Yohana Joevanca Kurniawan, merupakan salah satu mahasiswa Business Mathematic Universitas Prasetiya Mulya angkatan 2022. Beliau menjadi salah satu peserta yang turut berkontribusi dalam essay competition.
Beliau berhasil meraih predikat Best Speaker pada Essay Competition pada topik Chamber 3 yaitu Local Community Empowerment dengan tajuk besar "Optimizing Gender Cooperativeness Through Technology Toward the Green Industry".