Food Product Development Competition (FPDC) merupakan ajang kompetisi inovasi pangan bertaraf nasional yang diselenggarakan oleh Institut Pertanian Bogor (IPB). Pada tahun ini merupakan tahun kedua Food Product Development Competition diselenggarakan. Bekerja sama dengan Nestle dan SEAFAST IPB, Food Product Development Competition mengusung tema "Preventing Indonesia's Major Health Issues through Development of Plant-Based Food and Beverage for Teens, Adult, and Senior."
Kompetisi ini diikuti oleh mahasiswa berbagai kampus di seluruh Indonesia mulai dari Sumatra Utara, Malang dan daerah lainnya. Terdapat 20 kelompok yang lolos tahap seleksi abstrak sebagai seleksi awal, kemudian melanjut ketahap selanjutnya yakni pemaparan, penilaian dan penjurian langsung di tempat.
Tim mahasiswi S1 Food Business Technology dari angkatan 2019 Caroline Tiffany, Felicia Angelique Susanto dan Natanie Angelica Putri yang dipandu oleh dosen pembimbing Ibu Fransisca Wijaya, S.TP., MP. membawa inovasi produk Heybar dan berhasil meraih peringkat pertama dalam ajang kompetisi Food Product Development Competition (FPDC) tersebut.
Baca juga: Alexander Bryan: Juarai Peringkat Ke-3 AIS Social Media Competition Tingkat Internasional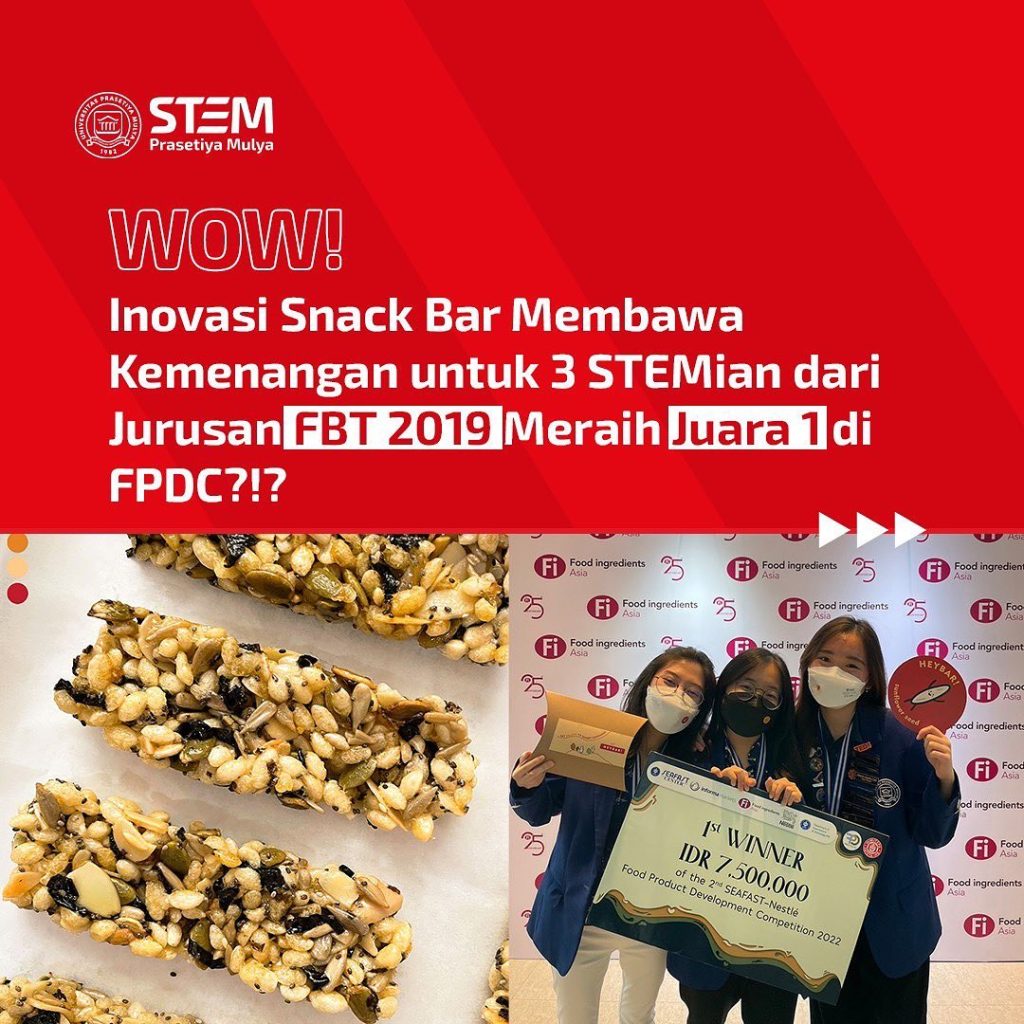 Inovasi produk Heybar merupakan savory snackbar pertama di Indonesia yang terdiri dari 5 bahan utama yang bergizi yakni, rice puff, sunflower seed, pumpkin seed, chia seed, dan almond. Heybar dinilai mampu meningkatkan nafsu makan dan mempertahankan rasa kenyang. Dengan cita rasa gurih yang nikmat dilengkapi dengan topping seaweed yang berkontribusi memberikan 0,044 gram fiber sebagai antikanker serta antioksidan dan masih banyak lagi.
Dari kompetisi ini, Caroline dan tim Heybar belajar banyak hal terutama untuk bekerja sama, berkomunikasi, saling mendukung satu sama lain, berusaha memberikan masukan agar dapat memberikan yang terbaik, dan menyusun presentasi berbahasa inggris dengan jelas dan menarik. Mereka juga memperdalam serta mempertajam kembali kemampuan analisis dalam mengembangkan produk seperti proses produksi, branding, klaim gizi, hingga aspek finansial. Banyak masukan yang sangat membangun dari para juri yang mereka dapatkan pada tahap presentasi akhir, terutama dalam proses pengemasan, uji umur simpan, serta pentingnya pendaftaran dan pengurusan perizinan produk.