Juara 2 Infographic Poster Competition 2020
Mahasiswa S1 Sekolah STEM Terapan Universitas Prasetiya Mulya:   
I Kadek Agus Suardijaya
(Program Studi Business Mathematics 2017)
memberi Inspirasi "Inovasi Enhance Food Quality, Achieve Sustainability"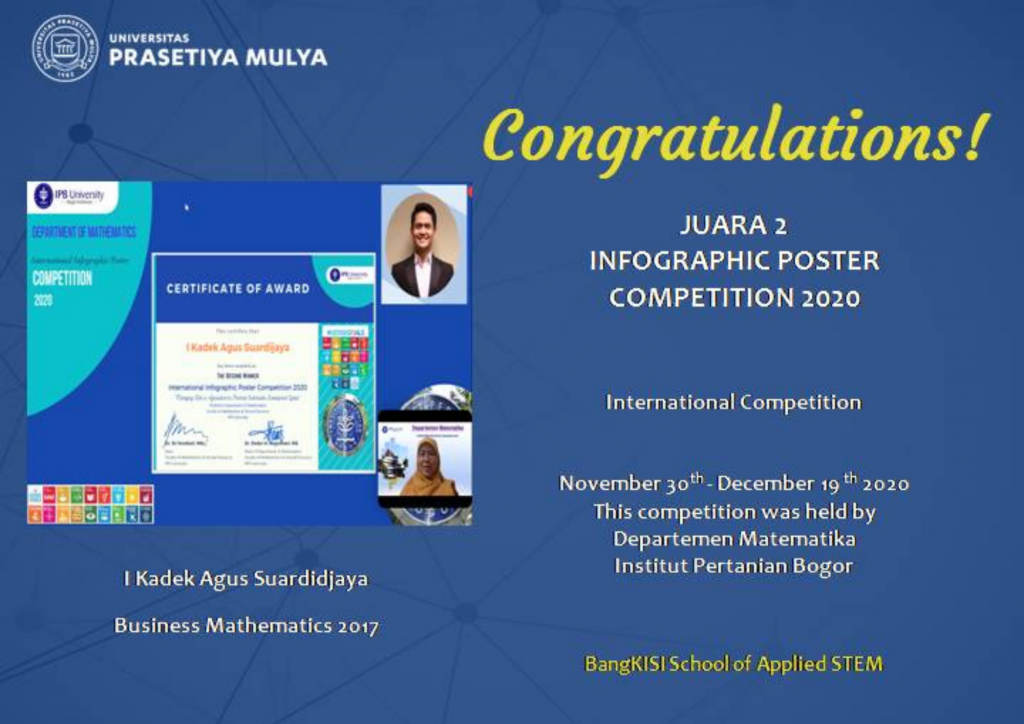 Mahasiswa Business Mathematics berhasil meraih juara 2 di ajang Infographic Poster Competition merupakan kompetisi yang diselenggarakan oleh Departemen Matematika Institut Pertanian Bogor dengan tema  "Managing Risk in Agriculture to Promote Sustainable Development Goals". 
Agus menuangkan idenya dalam poster infografis yang berjudul "Enhance Food Quality, Achieve Sustainability" yang mengangkat masalah peningkatan konsentrasi CO2 yang memberikan imbas negatif terhadap kandungan nutrisi pada tanaman padi, yang akan berdampak pada kesehatan gizi manusia. Terkait dengan risiko tersebut, solusi yang ia berikan adalah pengembangan padi hibrida yang dinilai memiliki ketahanan terhadap penyakit dan hama sehingga dapat meminimalisasi perubahan unsur pada tanaman dan dengan demikian mampu menghindari penurunan nutrisi akibat kenaikan CO2. Harapannya, output yang diharapkan dari solusinya dapat terealisasi dan berkontribusi untuk mencapai Sustainable Development Goals (SDGs) terutama SDG 2: Zero Hunger, SDG 3: Good Health and Well-Being, dan SDG 8: Decent Work and Economic Growth.
Terdapat 21 karya masuk kualifikasi yang terdiri dari Universitas Gajah Mada, Universitas Diponegoro, Universitas Padjajaran, Institut Pertanian Bogor (IPB), dan Universitas Prasetiya Mulya. Karya poster infografis Agus berhasil meraih Juara 2, sementara Juara 1, 3, dan Favorit diraih oleh perwakilan IPB. Jua
Agus berharap, kompetisi dapat menjadi wadah untuk mendorong dirinya terus mengasah kemampuan baik dalam hal desain serta belajar untuk sadar dan peduli terhadap lingkungan sekitar.