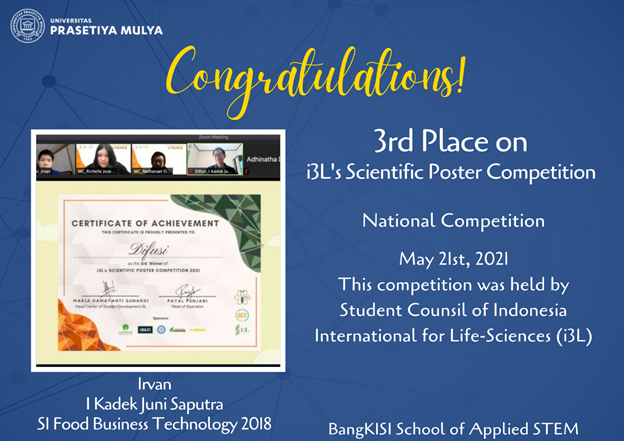 Mahasiswa sekolah STEM terapan Universitas Prasetiya Mulya kembali membanggakan. Irvan dan I Kadek Juni Saputra mahasiswa program studi S1 Food Business Technology 2018 berhasil meraih Juara 3 tingkat nasional dalam Scientific Poster Competition yang diselenggarakan oleh Student Council Indonesia International for Life – Sciences (i3L's).
i3L Scientific Poster Competition atau iSPC 2021 merupakan acara beskala nasional yang dipersembahkan oleh Student Council i3L yang terbuka untuk umum. Tujuan dari acara ini adalah untuk mendidik dan mendorong kesadaran menuju sustainability. Scienctific Poster Competition 2021 mengusung tema "Sustainable Living" dengan sub-tema Waste Treatment Innovation, Renewable Energy, Smart Technology, dan Food Security.
Irvan dan Juni berpartisipasi dalam Food Security dengan kembali membawa karya tulis "Influence of Mixing Speed on Microbial log Reduction of Nutritious Foods in PEF Sterilization.' Prototipe yang ditampilkan berupa alat PEF sterilizer batch yang mampu mensterilkan minuman atau produk makanan dalam 60 detik tanpa menggunakan panas sehingga kadar nutrisi maupun rasa dari pangan tidak berubah. Mahasiswa STEM Tetrapan Universitas Prasetiya Mulya ini  meneliti efisiensi alat kecepatan pengadukan yang berbeda demi mendapat alat yang lebih efisien dan praktis.
Karya tulis mahasiswa STEM Terapan Universitas Prasetiya Mulya ini sebelumnya telah berhasil meraih prestasi The Best Project in Chemical Physics Engineering pada International Online-Forum for Scientific Youth "Step into Future" 2020. Dengan menargetkan alat tersebut sebagai alat skala UMKM sehingga dapat memperpanjang masa simpan produk mereka.