Kini para generasi muda sudah lebih banyak yang sadar dan faham dengan keuangan. Namun tetap saja, mengawali karir apapun tidak akan membuatmu seketika berpenghasilan melimpah. Itulah sebabnya kenapa diperlukan keterampilan dan kecermatan dalam mengelola keuangan.
Jika bicara salah satu profesi yang sangat menjanjikan namun belum banyak peminat, maka aktuaris adalah salah satunya. Profesi sebagai aktuaris memang masih belum terlalu populer di Indonesia. Hal ini dikarenakan keterbatasan jurusan Ilmu Aktuaria yang tersedia.
Namun perlu diketahui, STEM Prasetiya Mulya menyediakan jurusan Business Mathematics sebagai wadah para generasi muda untuk memiliki pengetahuan dan keterampilan, baik dibidang finansial maupun aktuaris.
Pada tanggal 25 Oktober 2022, PT Asuransi MSIG Indonesia menyelenggarakan kegiatan Studium Generale berkolaborasi dengan Co-op STEM Prasetiya Mulya dengan topik Financial and Actuarial Literacy in Business. Acara ini diikuti oleh 69 orang mahasiswa angkatan 2022.
PT Asuransi MSIG Indonesia sendiri merupakan perusahaan asuransi terkemuka yang didirikan dengan perspektif jangka panjang, dengan tujuan untuk menawarkan solusi asuransi yang efektif, efisien dan mudah dipahami dengan pelayanan yang aktif dan tulus.
Pemateri dari PT Asuransi MSIG Indonesia adalah Ibu Monalisa Crystanti, FSAI (Fellow Society of Actuaries of Indonesia). Sesi dibuka dengan pengenalan industri dari Ibu Susana Alamsyah, selaku Head of Administration Department, PT Asuransi MSIG Indonesia.
Pada kesempatan ini lima mahasiswa pemenang Q&A Session menerima hadiah tanaman hidup sebagai simbol komitmen menjaga kelestarian lingkungan.
Baca juga: Tujuh Lulusan Terbaik STEM Prasetiya Mulya Periode Wisuda 2022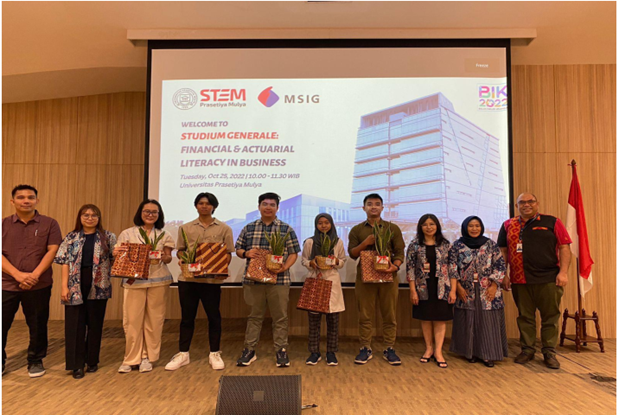 Editor : Dwining Putri Elfriede