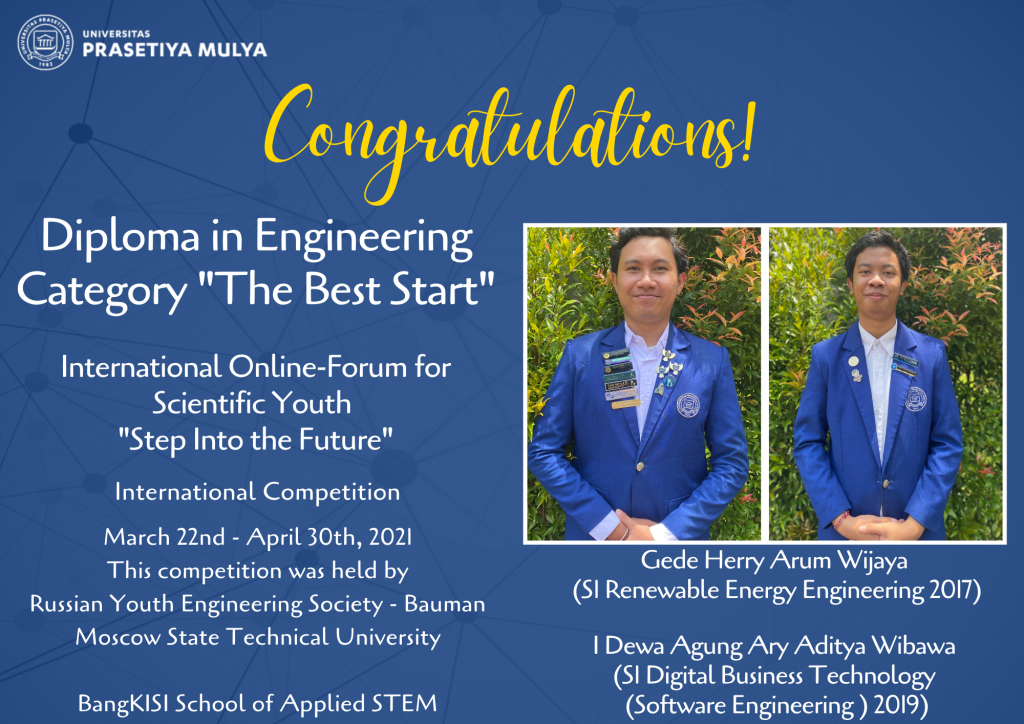 Step Into the Future atau SITF merupakan sebuah gelaran pameran serta kompetisi Internasional yang mempertemukan peneliti dari perwakilan 23 Negara yang diselenggarakan oleh Russian Youth Engineering Society – Bauman Moscow State Technical University.
Dalam kompetisi ini mahasiswa Univesitas Prasetiya Mulya Herry dan Adit berhasil membawa nama Universitas dengan berkesempatan untuk mewakili Indonesia dan bersaing dengan perwakilan 22 negara lainnya pada kategori Engineering. Mereka membawa inovasi Intelligent Battery Energy Storage System (i-Bess) yang merupakan teknologi Artificial Intelligence (AI) untuk memprediksi State of Charge pada baterai untuk optimasi proses pengisian dan berhasil meraih predikat Best Start pada kategori Engineering yang bersaing dengan 18 tim finalis di kategori Engineering.
I-Bess bermula ketika Herry dan Adit ingin menemukan sebuah inovasi yang menjadi bentuk collaborative learning di STEM Universitas Prasetiya Mulya dengan menggabungkan bidang keilmuan Renewable Energy Engineering dan Software Engineering. I-Bess merupakan teknologi AI sebagai metode automasi sistem pengisian baterai. AI yang dikembangkan menggunakan algoritma Neural Network untuk nantinya dilatih sebagai model yang dapat memprediksi nilai State of Charge sehingga mengoptimasi proses pengisian untuk memaksimalkan life time baterai.
Kedepannya Inovasi ini akan terus dikembangkan untuk dapat diaplikasikan ke penyimpanan energi sesungguhnya sehingga dapat memberikan dampak besar bagi dunia Renewable Energy dan Software. Herry dan Adit berharap dapat menciptakan lebih banyak lagi Inovasi yang menjadi bentuk Kolaborasi bidang keilmuan khususnya yang ada di STEM Universitas Prasetiya Mulya.