Accelerice Ambassador merupakan program satu tahunan yang diselenggarakan oleh Accelerice, Food Startup Indonesia Accelerator, yang nerupakan perantara untuk untuk membantu startup dalam membangun fondasi yang lebih baik menuju tujuan yang berdampak.
Nantinya Ambassador akan mengeksplorasi terkait isu dan permasalahan terkini tentang pangan serta mencari solusi yang kira-kira relevan, berkoneksi dengan food startups, komunitas, peneliti, dan pihak lainnya berkenaan dengan inovasi dan mengadakan program untuk mendorong inovasi pangan di Indonesia serta memajukan sektor di bidang Food and Beverage Startups dan Usaha Mikro Kecil dan Menengah (UMKM) lokal.
Alexander Bryan atau yang akrab disapa dengan sebutan Abray, merupakan mahasiswa program studi Food Business Technology angkatan 2020 yang telah mengikuti serangkaian seleksi administrasi dan wawancara yang bertujuan untuk mengetahui lebih dalam tentang latar belakang dan minat dari masing-masing calon Ambassador.
Ia terpilih sebagai Accelerice Ambassador 2022 bersama empat anak muda lainnya yaitu Ludwinda Eugenia (A Graduate Student of Food Technology), Ajeng Noviliandari (A Final Year Student of Food Science and Technology), Putu Cathay Varianthy (A Food Product Development, Food Waste Management, Market Research and Flavor Science) dan Rio Lawandra (A Master Science Degree in Food Technology specialized in Food Innovation and Management from Wageningen University).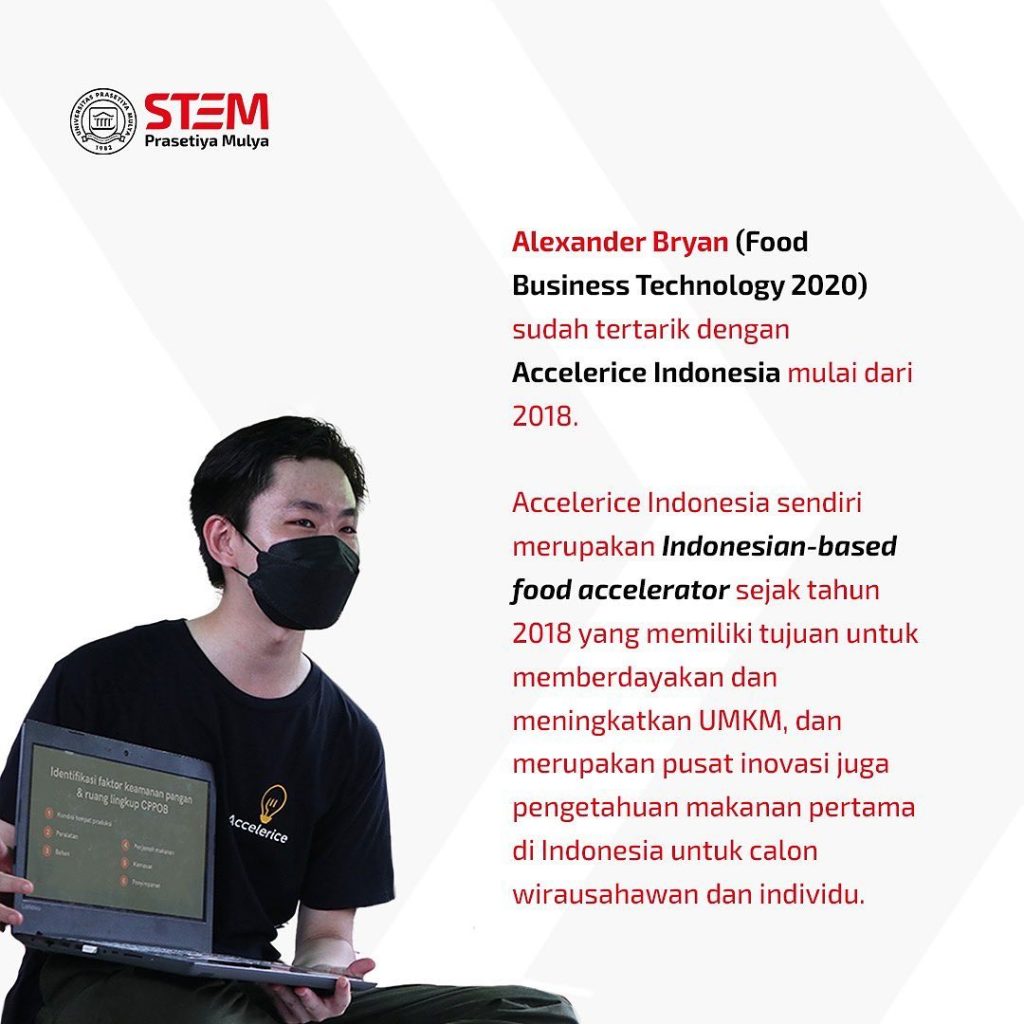 Para ambassador akan mengabdi selama masa jabatan yang ditentukan, sedangkan untuk proyek yang sedang Ia kerjakan bersama tim sebagai Ambassador sendiri adalah merancang serangkaian acara Future Food berupa kompetisi, workshop, webinar, dan bazaar.
Selain itu, mereka juga membuat konten sosial media dan artikel seputar tren pangan, mengedukasi masyarakat mengenai isu-isu pangan, dan melakukan kurasi terhadap food startup Indonesia potensial untuk partnership pada acara bazaar dan display store Rak Sebelah.
Selain mendapatkan ilmu pengetahuan dan pembelajaran, Alexander Bryan dan tim juga akan mendapatkan fasilitas berupa ruangan spesial, yakni ruangan food and beverage untuk kebutuhan bisnis mereka.
Dengan jaminan berupa kenyamana tempat dan serbaguna untuk memudahkan pengelolaan bisnis dan acara terkait nantinya.