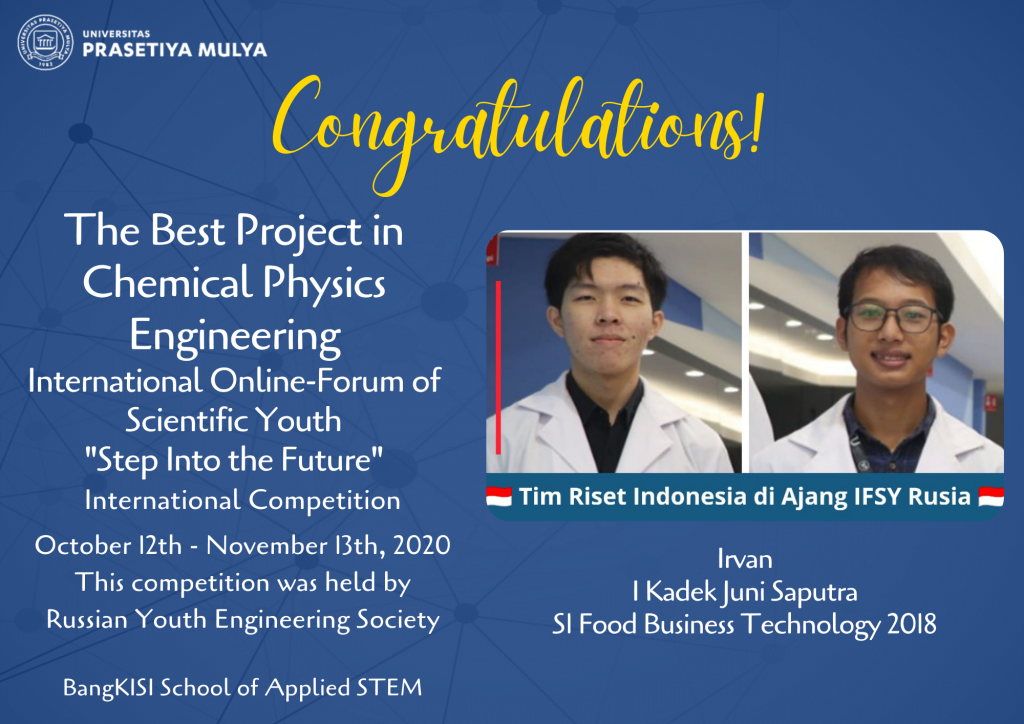 Mahasiswa S1 Food Business Technology meraih prestasi The Best Project in Chemical Physics Engineering pada International Online-Forum for Scientific Youth "Step into the Future" 2020 yang diselenggarakan oleh Russian Youth Engineering Society dan berkompetisi dengan 7 negara yaitu Cina, Italia, Rusia, Spanyol, Portugal, dan Serbia.
Juni dan Irvan membawa karya mereka yang berjudul 'Influence of Mixing Speed on Microbial Log Reduction of Nutritious Foods in Pulse Electric Field (PEF) Sterilization' untuk meneliti efisiensi alat pada kecepatan pengadukan yang berbeda. Prototipe yang ditampilkan berupa alat PEF sterilizer batch yang dapat mensterilkan minuman atau produk makanan dalam 1 menit tanpa menggunakan panas sehingga kadar nutrisi maupun rasa dari pangan tidak berubah. Alat tersebut ditargetkan menjadi alat skala UMKM sehingga dapat memperpanjang masa simpan produk mereka.
Juni dan Irvan mengucapkan terima kasih kepada mentor dan seluruh FM yang telah mendukung dan memberikan masukan untuk mereka. "Terima kasih kepada Universitas Prasetiya Mulya, khususnya Collaborative STEM Laboratories atas dukungan moril, dan fasilitas."
Universitas Prasetiya Mulya mengucapkan selamat atas prestasi yang diraih oleh tim Mahasiswa S1 Food Business Technology STEM. Semoga keberhasilan ini menjadi inspirasi bagi seluruh sivitas akademika Universitas Prasetiya Mulya untuk terus berkarya.