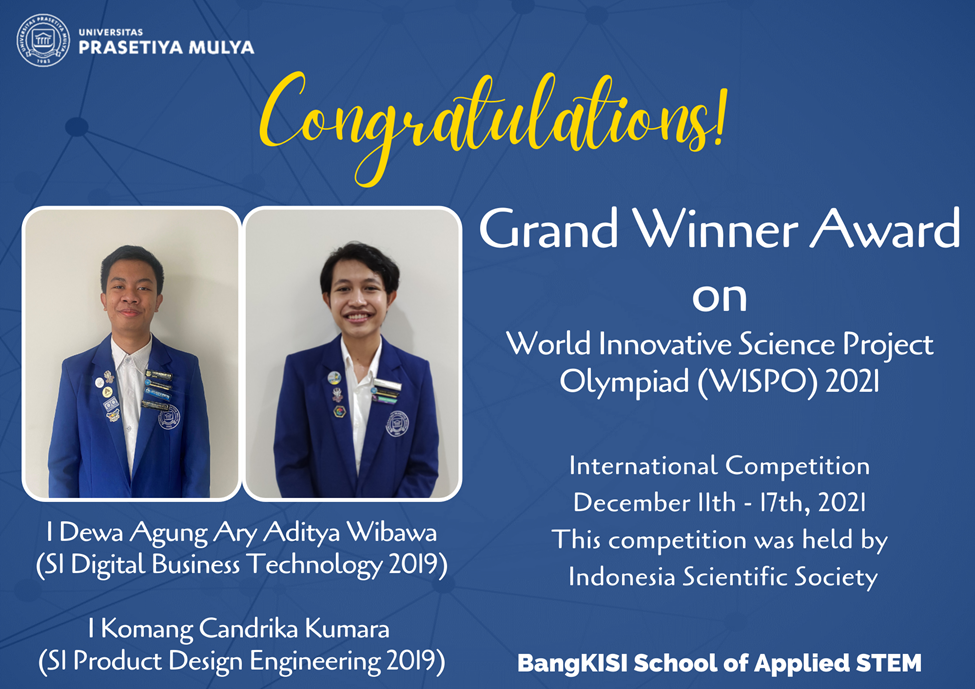 World Innovative Science Project Olympiad (WISPO) 2021 merupakan ajang tahunan yang diadakan oleh Indonesia Scientific Society (ISS) untuk mempertemukan berbagai inovasi dari seluruh dunia. Terdapat 23 negara yang menjadi peserta pada WISPO 2021 dan terpilih 120 finalis yang berkompetisi di 4 kategori yaitu Science and Mathematics, Engineering and Technology, Energy, dan Environmental Science.
Pada WISPO 2021, mahasiswa STEM Universitas Prasetiya Mulya Aditya dan Candrika membawakan inovasi Sistem Prediksi dan Penjadwalan Tanam Cabai Rawit Melalui Model Matematika Kalender Saka Bali. Tujuan utama dari inovasi ini adalah menginisiasi pembuktian secara empiris terkait sistem baik/buruk hari di Kalender saka bali. Inovasi ini terinspirasi dari rasa penasaran mereka tentang sistem penentuan hari baik/buruk yang sudah mereka ketahui sejak dulu namun belum ada penjelasan secara ilmiah terkait kebenaran sistem tersebut.
Setelah berhasil menjadi bagian dari 120 finalis WISPO 2021, mahasiswa STEM Prasetiya Mulya ini dengan inovasi yang dibawakannya, mereka berhasil meraih penghargaan tertinggi yaitu Grand Winner Award dengan mendapatkan nilai tertinggi pada kategori Science and Mathematics. Mereka bergabung dengan 3 tim yang berasal dari 3 kategori lainnya yang meraih Grand Winner Award dari keseluruhan tim.
Dari kedua mahasiswa STEM ini banyak sekali hal yang dapat dipelajari, mulai dari bagaimana menghasilkan sebuah inovasi dari rasa penasaran hingga keberanian untuk ikut berkompetisi di tingkat internasional. Tentu sebelumnya banyak proses yang dilewati untuk bisa menghasilkan inovasi ini. Dibalik seluruh proses yang baik, ada Bapak Stanley Makalew, M.Sc. Dosen STEM Universitas Prasetiya Mulya selaku pembimbing yang memberikan masukan dan dorongan untuk keberhasilan inovasi ini.
"Tentu seluruh proses akan berakhir dengan baik jika dijalani dengan baik dan tekun, begitu juga dengan proses inovasi jika dijalani dengan tekun dan pantang menyerah maka akan berhasil menghasilkan sesuatu yang luar biasa." ~ Aditya & Candrika